Hello, in this post, we will discuss about registration under GST.  We will see who are liable and not-liable for registration, the essential documents and important points to consider. In addition, we discuss the cancellation of GST registration.
Given below are the sections we talk about specifically.  Read through the entire post to get a complete idea of Registration under GST.
Introduction :
In any tax system, perhaps the first and foremost fundamental requirement is the identification of a taxpayer i.e., registration under the GST regime.  Registration under GST involves obtaining a unique number from the tax authorities. This is for the purpose of collecting tax on behalf of the government. A person can only claim the credit for tax paid on their inward supply when they are registered.
Persons liable for registration:
Every supplier whose aggregate turnover in a financial year is above Rs. 20 lakhs is liable to get registration under GST. In case of special category States (as specifically mentioned below), the limit is Rs. 10 lakhs:
Arunachal Pradesh
Assam
Manipur
Meghalaya
Mizoram
Nagaland
Sikkim
Tripura
Himachal Pradesh
Uttarakhand
However, in the case of Jammu & Kashmir, the limit of Rs. 20 lakhs will be applicable.
Compulsory registration under GST
If the person is making supply from one State to another ( inter-state supply)
Casual taxable persons making taxable supply
The person who is liable to pay tax on a reverse charge basis.
E-commerce operator
Input Service Distributor
Persons required to deduct tax
Important points to consider:
In the case of inter-state supply of taxable services, if the aggregate turnover of the supplier is less than Rs. 20 lakhs (10 lakhs in case of special category States),  it is not compulsory to obtain registration under GST ( Notification No. 10/2017-Integrated Tax dated 13.10.2017)
In case of a casual taxable person who is supplying specified handicraft goods, those persons need not take compulsory registration. They can also avail the benefit of the threshold limit of Rs. 20 lakhs (Notification No. 38/2017-Central Tax dated 13.10.2017)
Persons supplying goods through e-commerce operator can also avail the threshold limit of Rs. 20 lakhs (Notification no. 65/2017 dated 15.11.2017).  Also, they need not take compulsory registration until the specified limit crossed.
Documents required for registration :
The following documents are necessary for registration:
PAN of the entity
Mobile number and email id
Valid bank account details along with IFSC code
Place of business
An authorized signatory with a valid PAN
Any other document as may be necessary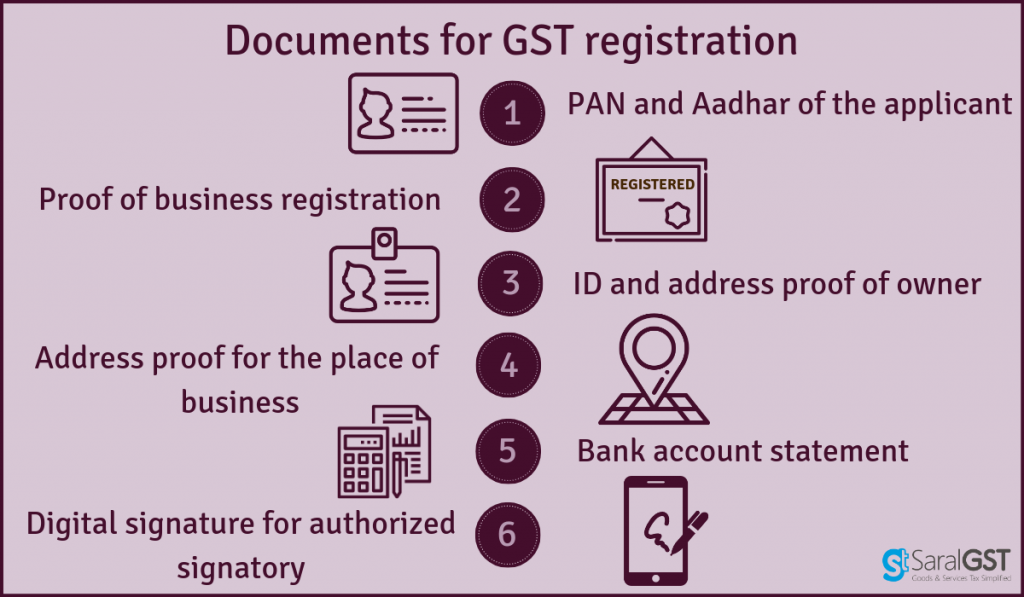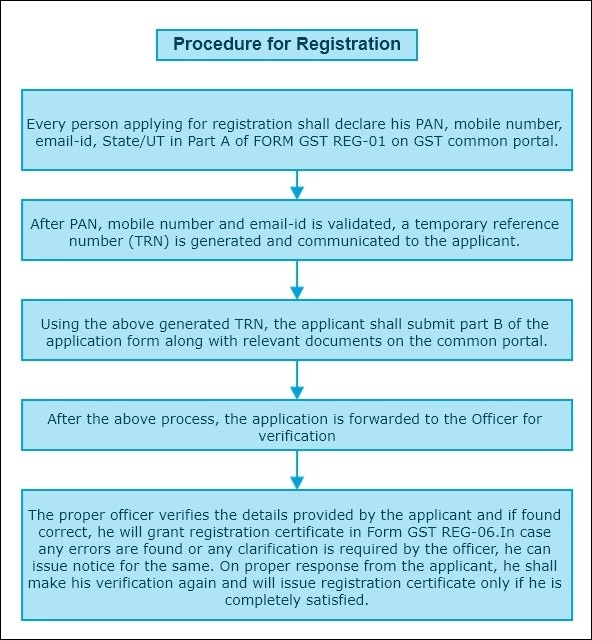 Cancellation of Registration
In the following two mentioned cases, cancellation of registration can take place as:
Voluntary cancellation: It is applicable where the registered person does not require it anymore. (E.g., he is closing his business)
Cancellation by department: This can take place if the department considers that the registered person has made some default. (E.g., Non-filing of return for a long time)
A person who wants to cancel the registration has to apply on the GST portal during which process, they have to provide the relevant details for cancellation. Before cancellation of the registration takes effect, the registered person has to pay all the taxes due if there is any. I.e., a person's registration cannot be cancelled if there are any tax dues remaining.
Persons not liable for registration under GST :
The following persons are not liable for registration:
An Agriculturist
If a person engaged in supplying of exempted goods or services
Any person engaged in supplying goods or services which are not liable to tax.
Other categories of persons specified by the Government

For example, if a person is supplying goods/services which are liable to pay by the recipient under reverse charge, the supplier will be exempt from obtaining registration.
This ends our post on Registration under GST. If you have any queries or doubts kindly drop them in the comment section below.
Related: