Hello, in this post we will discuss the latest news of the new GST return forms released by the Goods and Services Tax Network (GSTN).
The government released the new return forms which businesses will have to file for paying GST from the next financial year.
The new return forms are:
(The above links will take you to the explanation for each form)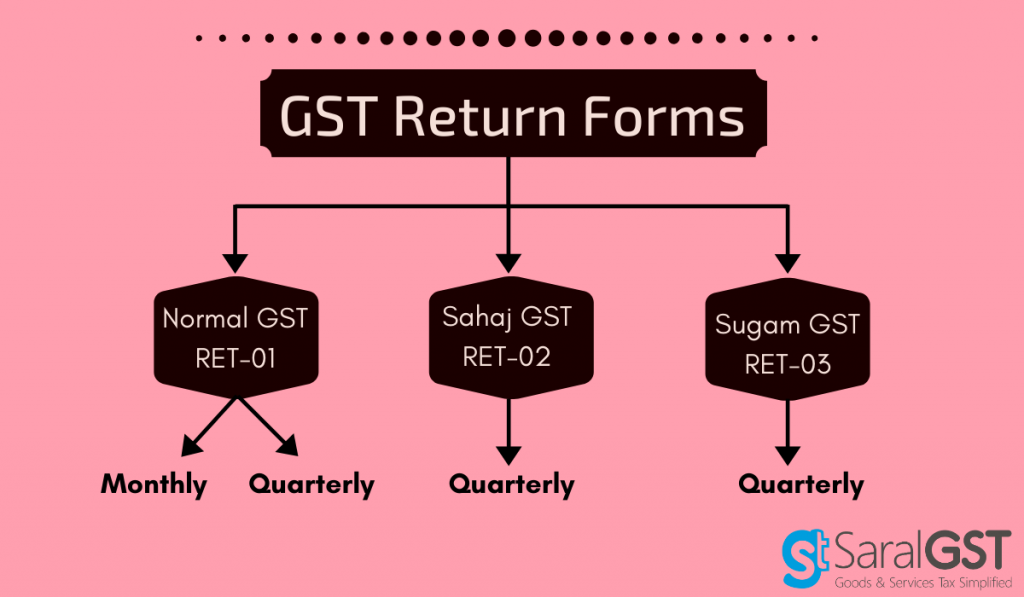 The new forms would make the compliance process easier. Businesses with annual turnover upto 5 crores have the option to file any of the three forms.
You need to provide the HSN wise details at the invoice level rather than summary level. Adding to that, the new format will require the details of 6 digit HSN level wherein the current format you require the details at 4 digit HSN codes.
According to the GST council, the new forms will be implemented starting from April 1st, 2019. It will be made mandatory from June 1st, 2019 as per the decision from GST Council.
Conditions to choose / Opt GST Return types
| Conditions | Normal (RET1) Monthly | Normal (RET1) Quarterly | Sahaj (RET2) | Sugam (RET3) |
| --- | --- | --- | --- | --- |
| Filing Period | Monthly | Quarterly | Quarterly | Quarterly |
| Turnover above 5Cr | Yes | No | No | No |
| Turnover below 5Cr with only B2C transactions | Yes | Yes | Yes | No |
| Turnover below 5Cr with only B2C and B2B  transactions | Yes | Yes | No | Yes |
| Turnover below 5Cr with B2C, B2B, export transactions | Yes | Yes | No | No |
| Allow inward transactions with RCM | Yes | Yes | Yes | Yes |
| E-commerce transactions | Yes | Yes | No | No |
| ITC against missing invoices | Yes | Yes | No | No |
| Nil, Non-GST, Exempted transactions | Yes | Yes | Yes | Yes |
| HSN Code (6 Digits) | Mandatory | Optional | Optional | Optional |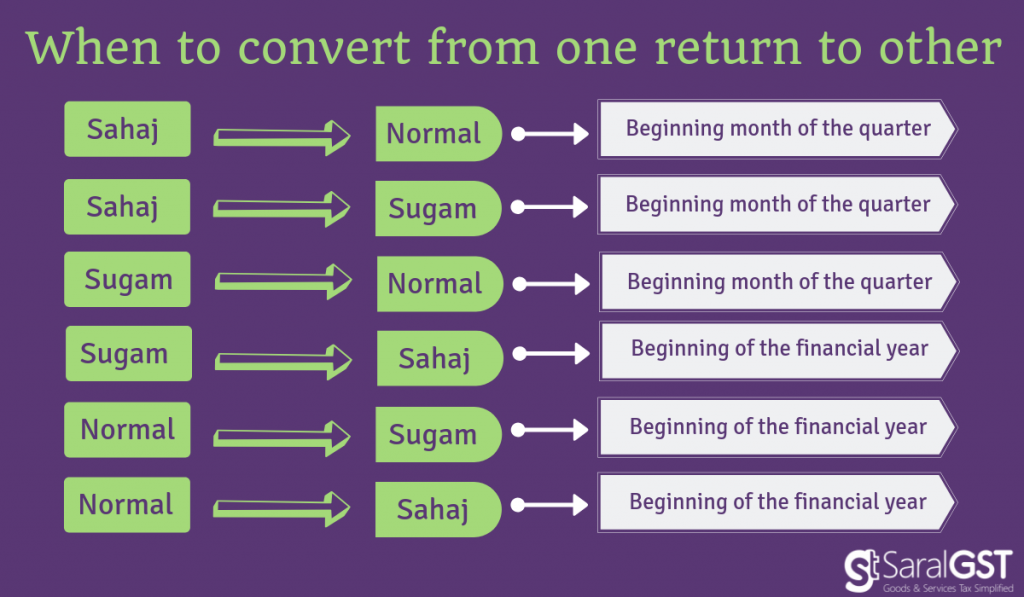 You can also see how to switch to New GST Return in Saral GST: