According to a notification from Central Board of Indirect Taxes and Customs (CBIC) GSTR-9 or Annual return filing due date is extended to March 31st, 2019 from earlier December 31st, 2018.
Hello, in this post we will discuss all about GSTR-9 or the GST annual return. We will talk about:
What is GSTR 9?
GSTR 9 is a compilation return to include all business transaction done for a particular Financial Year. It consists of details regarding the supplies made and received during the year. Under different tax heads i.e., CGST, SGST, and IGST. It consolidates the information furnished in the monthly / quarterly returns during the year.
Different types of GSTR-9
Form
Applicability
GSTR 9
Annual return for registered persons under the regular scheme
GSTR 9A
Annual return for registered persons under Composition Scheme
GSTR 9B
Annual Return for the e-commerce operators who have filed GSTR 8 during the financial year.
GSTR 9C
Reconciliation form to be certified by CA / CMA for registered persons with a turnover of more than 2 Crores.

All such taxpayers are also required to get their accounts audited and file a copy of audited annual accounts and reconciliation statement of tax already paid and tax payable as per audited accounts along with GSTR 9C.
GSTR-9 due date
Due date to file the Annual return GSTR-9 is 31st December of the following year. For example, 31st December 2018 for FY 2017-18.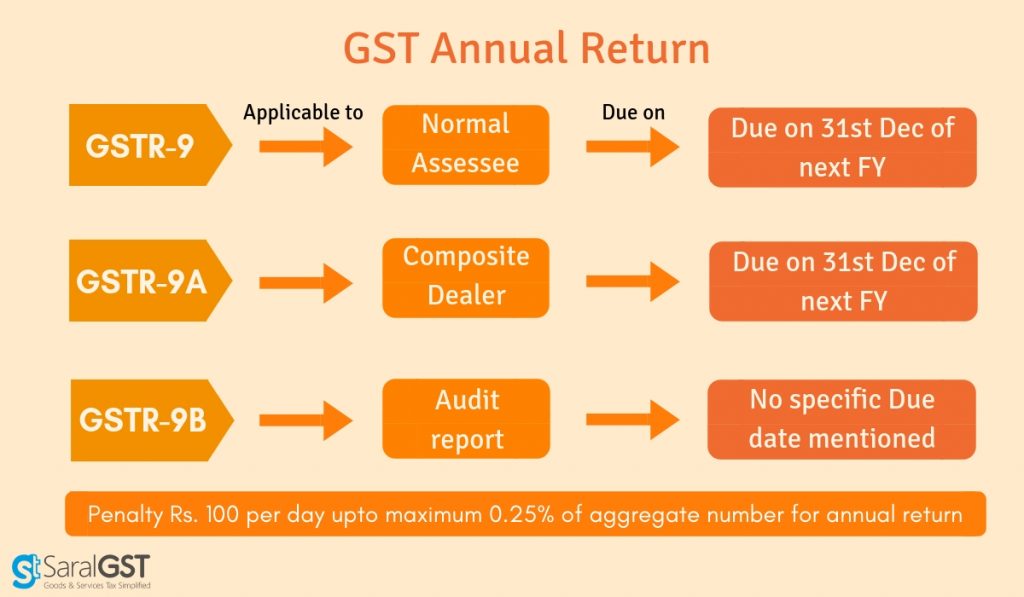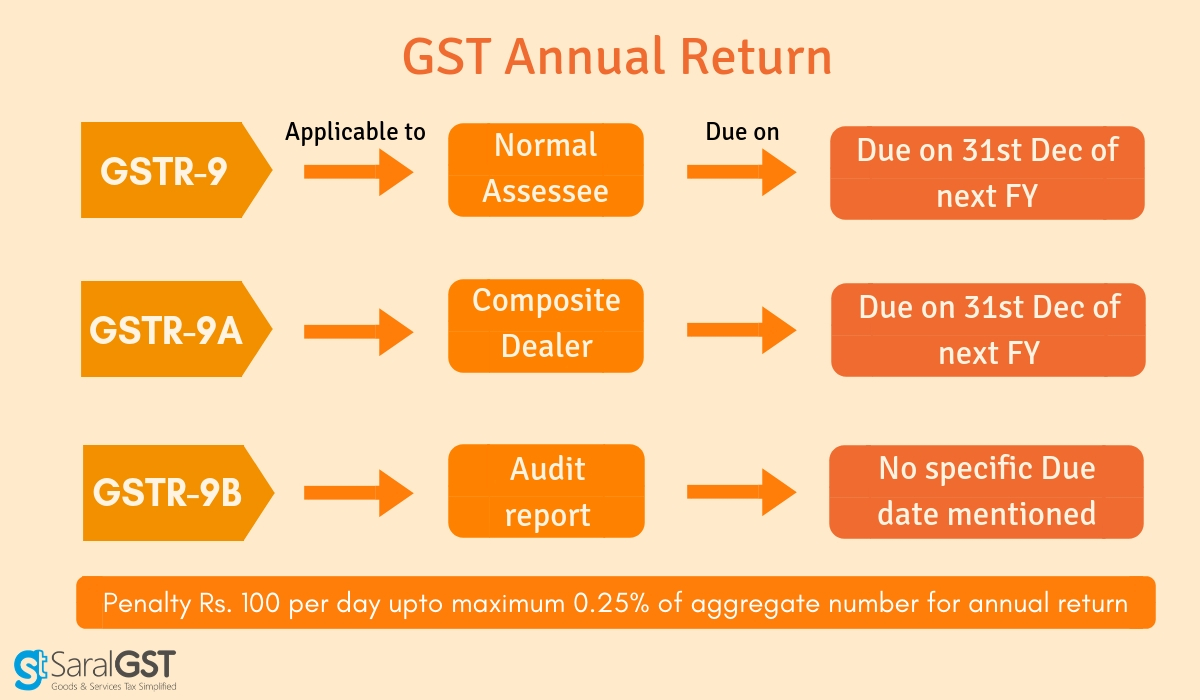 Details or Format of GSTR 9
PART
Details required
Part-I
Details of the taxpayer. This detail will be auto-populated.
Part-II
The details regarding  Outward and Inward supplies declared during the FY. This detail must be picked up by consolidating summary from all GST returns filed in previous Financial Year.
Part-III
Details of the ITC declared in returns filed during the FY. It will be summarised values picked up from all the GST returns filed in the previous FY.
Part-IV
Information of tax paid as declared in the returns filed during the FY.
Part-V
Particulars of the transactions for the previous FY declared in returns of Apr to Sept of current FY or up to the date of filing of annual return of previous FY whichever is earlier. So, the summary of amendment or omission entries belonging to previous FY but reported in Current Financial Year would be segregated and declared in this part.
Part-VI
Other Information consisting details of:

GST Demands and refunds,
HSN wise summary information of the number of goods supplied and received with its corresponding Tax details against each HSN code
Late fees payable and paid details and
Segregation of inward supplies received from different categories of taxpayers like Composition dealers, deemed supply and goods supplied on approval basis.
Download: PDF format of GSTR-9.